Hi I am running windows 7 64bit with BOINC 7.8.3 (x64) (was 7.8.2 at the time the images were taken)
I found the following problem 3 weeks ago when I swapped to Moo! wrapper but because I process as part of the GRCPool with gridcoin I could not post here as my user had no credit, last night I swapped one of the machines back to boincstat to get credit to post here. Mikey has tried to assist me via private messages so far. Thank you for that.
Problem described below.
I have 2 legacy ATI Radeon HD 3870 cards. When using Moo wrapper, BOINC assigns 2 tasks, 1 for each GPU. I used GPU-Z to investigate the GPUs when i noticed the one was running very hot compared to the other and that is when I discovered that only of the cards had any load. The one card runs 100% load while the other does nothing.
I have tried the following before posting.
1. Enable all GPUS in the BOINC config file.
2. Checked, mother board support PCIe x 16 2.0.to allow 2 cards to run at the same time - I confirmed mine does.
3. Plugged monitors into both cards - I did that.
4. Confirm that the 2nd card is not blown. I took them one by one and did a test - all good.
5. Make sure overdrive and crossfire is off - did that.
I logged this on the berkeley forum
https://boinc.berkeley.edu/dev/forum_thread.php?id=11966&postid=82702#82702
. The admins helped me to investigate and in the end their verdict was that this was a problem with the Moo wrapper and not with BOINC as BOINC was assigning the task to the correct GPU device and it appears as if the Moo wrapper was ignoring the BOINC instruction. From their posts I understand that there was an API change at that point that might have been missed.
Thanks for the assistance.
Wayne (Bob)
Here are some of the images.
BOINC shows tasks, one for each device 0 and device 1 - GPU-Z shows 0% Load on GPU device 0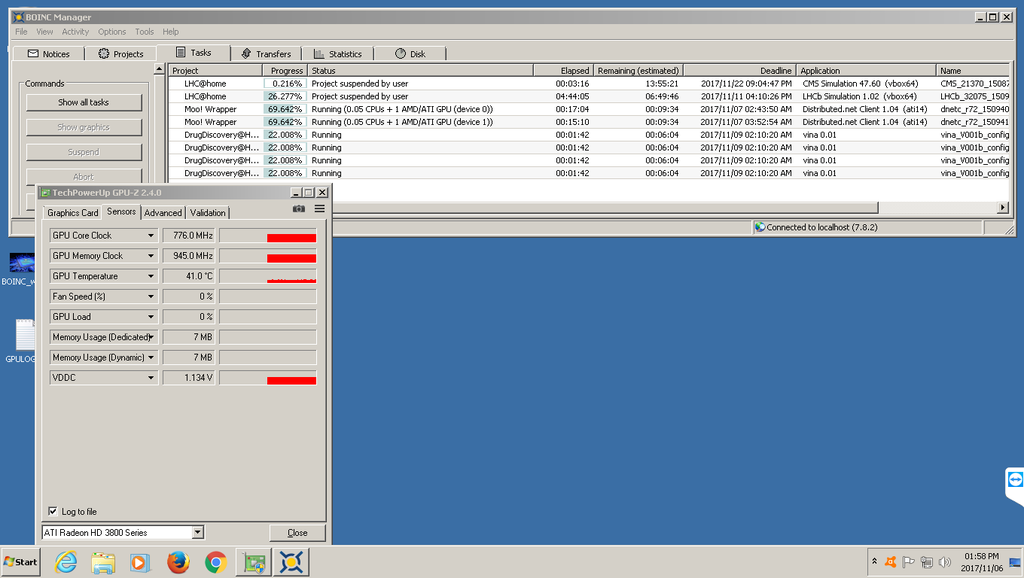 GPU-Z shows 100% Load on GPU device 1
BOINC Eventlog
Machine summary from speccy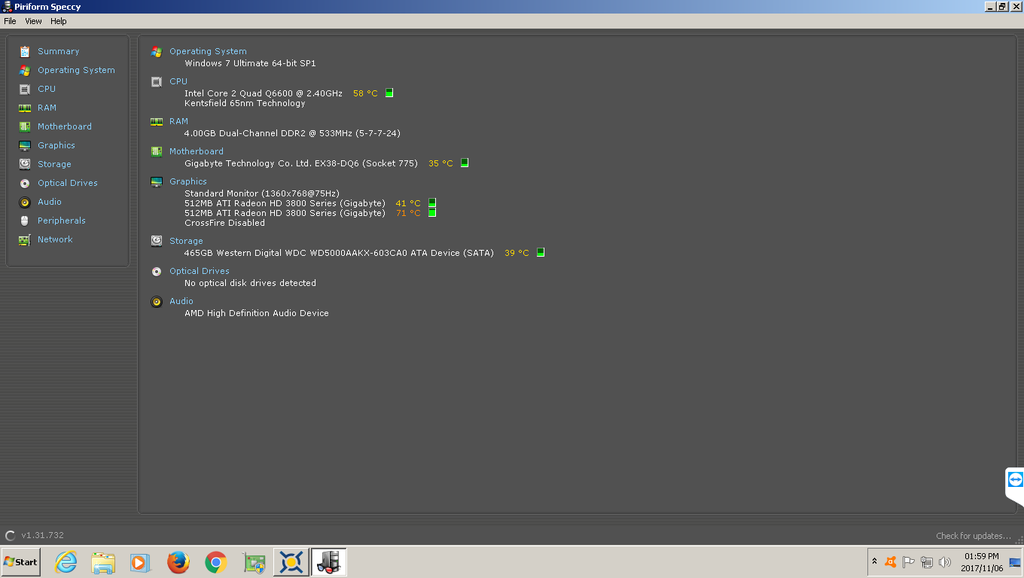 Speccy - GPU Device 0 details
Speccy - GPU Device 1 details
BOINC cc_config file.
BOINC App_config file (this makes no difference)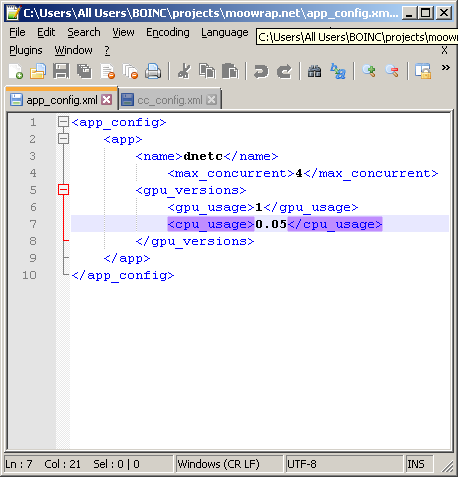 Taks manager - attempt to find dnetc wrapper commandline
init_data.xml file for device 0 Moo! tasks - shows BOINC has assigned the task to the correct GPU device.
init_data.xml file for device 1 Moo! task - shows BOINC has assigned the task to the correct GPU device.